Description
5-inch to 32-inch size range, Customization is welcome!
Touch Optional: No Touch or 5 Wires Resistive Touch or 10 Points Capacitive Touch.
What Differences Between Capacitive Touch and Resistive Touch?
Features:
● 1. Embedded outdoor KIOSK design, rubber ring with drainage channels Optional.
● 2. Adopt multi-points Capacitive touch/Resistive Touch or No touch, high sensitivity, and fast-response, 7H Glass for vandal-proof.
● 3. 1000~1500 nits, sunlight-readable, with light sensor for auto-dimming.
● 4. Anti-glare /Anti-reflection Coating Glass to reduce the shadow under the sun.
● 5. Industrial temperature range: operating: -20 to 80°C, storage: -30 to 80°C.
Highlights:
Application: Outdoor KIOSK
1. Anti-glare glass: to reduce the shadow on the screen when it is under the sun.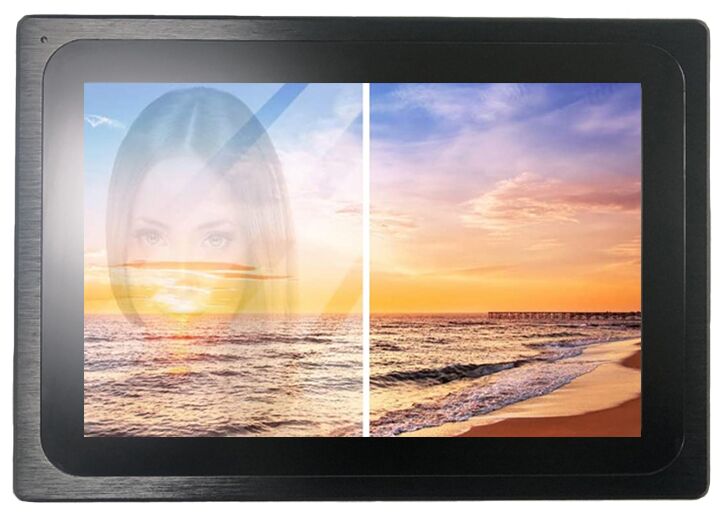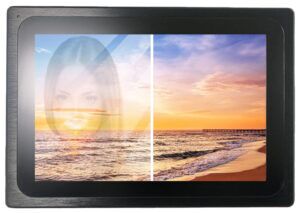 2. 1000nits high brightness: sunlight-readable.
What Is A Nit Of Screen Brightness And How Many Do You Need?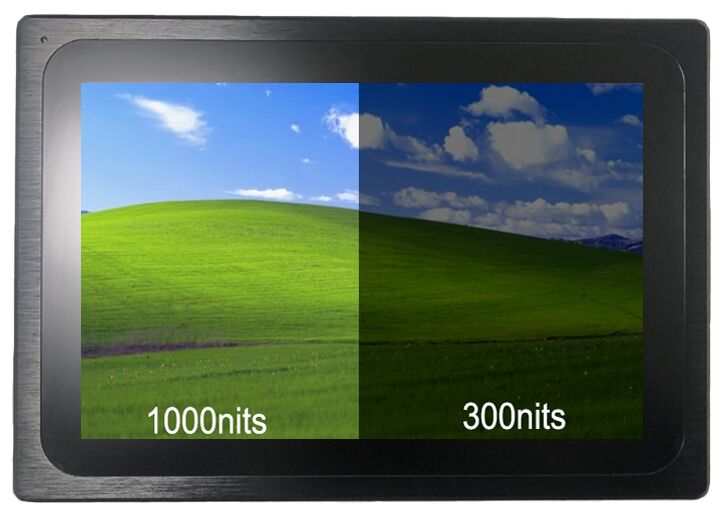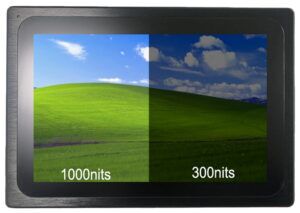 3. Auto-dimming with light sensor (Optional): to protect your eyes when day and night.

4. Anti-glare or Anti-reflection Glass Coating: to reduce the mirror reflection on the screen.
Size Optional:
| | | | | | | | |
| --- | --- | --- | --- | --- | --- | --- | --- |
| 7″/8″ | 10.1″ | 12.1″ | 13.3″ | 15″ | 15.6 | 17″ | 19″ |
| 1024*600/1024*768 | 1280*800 | 1024*768 | 1920*1080 | 1024*768 | 1920*1080 | 1280*1024 | 1280*1024 |
| 4:3 | 16:10 | 4:3 | 16:9 | 4:3 | 16:9 | 4:3 | 4:3 |
Thanks kiosks to provide us with an improved service for daily life. Do you know how many sections they are in?
1. Self-Service Kiosks: providing a service such as taking payment from customers, printing certified documents, issuing licenses/ID cards, or performing a booking or a reservation.
1) Healthcare – Check-in for appointments, pay for prescriptions
2) Government – Citizens can print government ID cards directly at the Kiosk
3) Corporate – Visitor registration facility (printing badges), facility for staff to update details for HR purposes
4) Industrial – Digital job cards, recording task data, reporting issues and project reports
5) Banking – Deposits and withdrawal machines are considered forms of Self Service kiosks
6) Retail and showrooms – Pay your mobile bill, buy a top-up card, or perform account updates
7) Universities – Vast number of services that students perform such as requesting a transcript, letter of attendance, student card replacement, etc…
8) Schools – Registration kiosks to allow visitors to register themselves before entering the school, against a pre-defined visitor/checklist.
9) Events – Badge printing to fast-track delegates with pre-registered tickets using a barcode scanner.
2. Information Kiosks: providing information to the users of the system.
1) Health care – Patient kiosk which holds information about general health and the ability to print a selection of documents.
2) Government – Tourist kiosk or landmark information kiosk that gives information to the visitor about the location/services with the ability to print.
3) Corporate – Provide staff to print letters of identification, payslips, etc
4) Retail and showrooms – Provide a catalog of products and services offered by the business.
5) Schools – Display school awards, latest information, ability to print documents, school reports, etc
6) Events – Numerous uses including exhibitor list, or if allocated to an individual exhibitor it can display products/services, gather user details.
3. Internet Kiosks: in public waiting areas such as airports, train stations, libraries, museums
1) Providing user mobile number and email where it can be used for marketing purposes in return for free internet
2) Pay with cash notes, or coins to receive the internet service. The kiosk automatically understands the note and the hourly rate, giving the user access to the internet.
4. Wayfinding Kiosks: providing a service to help people establish where they are exactly within a location, what is nearby and how to get there. Each kiosk is geo-fenced and is aware of its current location and all the locations around it.
1) Airport Wayfinding Kiosk – Where passengers can find duty-free shops, flight gates, business lounges, toilets, distance to them, and the time it takes to get there.
2) University indoor/outdoor wayfinding kiosks – Located inside the campus, allowing students to find a lecturer's directory with their details and locations, room numbers, labs, etc…
5. Advertisement Standing Displays, Totems, and Digital Mupis: having the characteristics of being striking in look, and being a standing kiosk unit that can be seen by passers from a distance.
1) NFC module gives the user the ability to send information about a specific ad from the screen to their mobile device.
2) Wi-Fi Hotspot module that allows the standing display to be used as a hotspot providing internet to the users standing around it thus attracting users to stick around and watch the content being shown on the display.
3) Audience Measurement tool which allows the system to give the administrator a function to measure the effectiveness of the advertisement/information shown on the screen by recording the behavior of users passing in front of the Digital Mupis.